How to Detect Fraud
It is getting more and more difficult to determine what is legit and what is fraud.
Scammers have nearly perfected imitating people we know, businesses we work with and authorities we trust. Banks are often imitated in an attempt by scammers to steal your personal and financial information.
There are certain things you can look for when determining the legitimacy of an email, a text message, or other form of communication that is unexpected and claims to be from your Bank. Staying informed can protect you from falling victim to a scam.
If you ever receive an unexpected email, text or phone call regarding your account with us here at Sterling State Bank, here are some things to look for to determine the legitimacy of the message.
Examine the Sender's Email Address
Look for extra letters, misspellings, or differences to previous emails from the original source. Sterling State Bank uses Enfact Notifications for fraud alerts.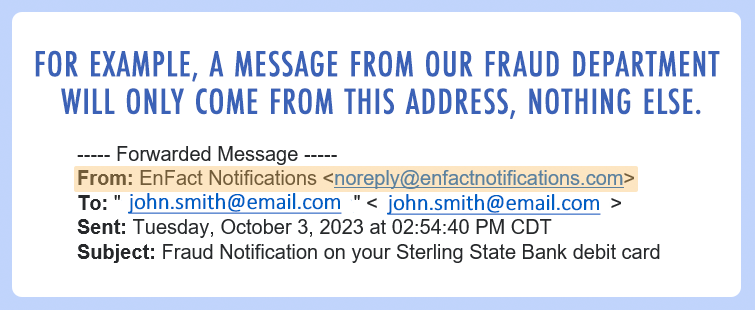 If the sending e-mail address does not exactly match [email protected], then it is a fraud attempt.
| | |
| --- | --- |
| | Make sure your current phone number and e-mail address are updated with your Personal Banker – we will use the phone number or e-mail address you specify to us to contact you if suspicious activity occurs on your account. |
Verify Phone Numbers Included
Verify phone numbers included in the message with the business's phone number from their website. If you are unsure about the message, contact your Personal Banker immediately.
If you have received a fraud protection alert email or text message regarding your Sterling State Bank account, the only phone numbers that are legitimate and should be referenced by the text or e-mail are:
Toll-Free 1-833-735-1894 or outside US 206-208-2443
| | |
| --- | --- |
| | Add these phone numbers to your contacts under "Sterling State Bank Fraud Dept" for quick reference. |
If Contacted by Sterling State Bank/Our Fraud Department or someone claiming to be Sterling State Bank/Fraud Department, Know What Information We Will Not Ask You Over the Phone or by Email
We will never ask for your full social security number.
We will never ask for your login, PIN or password.
We will never ask for your full account number.
We will never ask you to send us money.
| | |
| --- | --- |
| | Set up account alerts through our Sterling State Bank Mobile App or Online Banking as an additional layer of protection to notify you when balance or transaction thresholds are exceeded. |
If We Suspect Fraud on Your Account
Our fraud department will attempt to contact you should suspicious activity be found on your account. If you receive an email from our Sterling State Bank Fraud Prevention Department* and partners at EnFact ([email protected]) and have verified all of the information above, cross checked phone numbers with the listed above, please reply to the message to avoid your account from being locked. For security purposes, if we are unable to verify recent purchases with you, the account will be locked.
Fraud attempts happen everyday. Stay diligent, stay informed and stay safe!
If you are ever unsure about an email, text message or phone call saying they are Sterling State Bank, contact us immediately at 507-282-1845
*While no system can catch and stop every instance of fraud, we want to help you keep your account safe. That's why we use an automated fraud detection system to score transactions on your debit card as they are authorized to try to detect and mitigate fraud attempts