Expanding Awareness & Access to PPP Loans For Minnesota Minority & Small Businesses Owners
03/31/2021
Sterling State bank Continues Expanding PPP Loan Access to Minnesota Minority& Small Businesses
The second round of PPP loans has kept Sterling State Bank busier than the first round; this time with a focus on bringing financial assistance to underserved veteran, women and minority-owned businesses.
During the first round of PPP funding that began in April 2020, Sterling State Bank enjoyed incredible success in securing approximately $50 million in funding for over 500 small businesses.
On December 21st of last year, Congress approved changes to the PPP program that created an option for a second draw for existing borrowers and expanded access to new borrowers. Since then, Sterling State Bank has worked hard fund even more PPP loans to smaller and more diverse businesses here in Minnesota.
The Bank's efforts to expand access to PPP funding during the second round have been even more successful than the first round. To date the Bank has funded almost 500 new and additional loans. This past Thursday the current PPP loan program was extended through the end of May and the Bank anticipates exceeding the number of small business loans approved in round one during this time.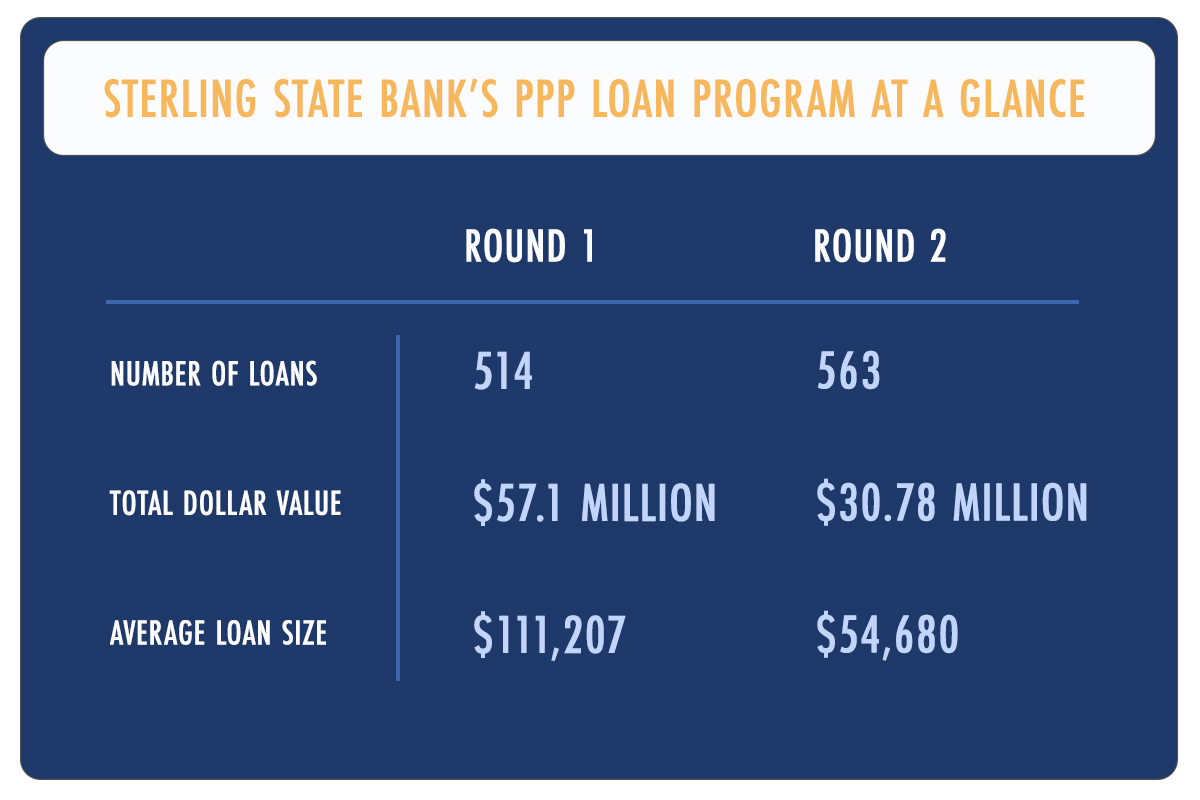 *Totals as of 3/31/21.
PPP Eligibility for Underserved Minority Business Owners
More exciting than the total numbers of approvals the Bank will achieve in the second round of PPP funding is whom this funding is reaching. Changes to the PPP rules during this second round mean more types of businesses are eligible for PPP and this expanded eligibility is benefiting smaller businesses. Often these smaller businesses include veteran, women and minority-owned businesses in underserved communities.
"What we experienced with the first round of PPP was that many small businesses with accounting and payroll staff were first to apply and qualify for funding under PPP," said Sterling State Bank President Justin McNeilus. "This benefitted a large number of employees. However smaller businesses, sometimes with just a single employee, faced difficulty qualifying under the initial rules. The second round of PPP expanded eligibility to include these smaller businesses, and by focusing our efforts on processes applications for even the smallest businesses, we've been able to expand funding – often through word of mouth – to some underserved markets and minority-owned businesses in Minnesota. As a Community Bank we are absolutely committed to expanding access to financing locally. Your deposits with our Bank fund loans in the communities we live and work in. I am proud of how effective Sterling State Bank has been in securing our share of this national program here in Minnesota. If you know of a small or individually owned business that has not yet applied for PPP, please have them contact us to see if they might be eligible. No loan amount is too small for us to process, and our staff are experts in the program."
With two months left in under the current extension of the PPP program Sterling State Bank has already funded almost 500 new or second loans for small business owners. Approximately 75% of these approvals in the second round are for veteran, woman or minority-owned businesses.
The SBA PPP Loan Program is Continuously Changing
"The SBA PPP loan program is continuously changing. We have recently been able to expand services to minority owned businesses in Minnesota that for a number of reasons were not benefiting from this program initially," said Sterling State Bank Vice President, Tyler Coleman. "The latest PPP extension through the end of May allows us to expand needed funding to more underserved and minority owned businesses in Minnesota. At this time the majority of the loans we are processing are going to minority-owned businesses that have never before received any PPP funding. "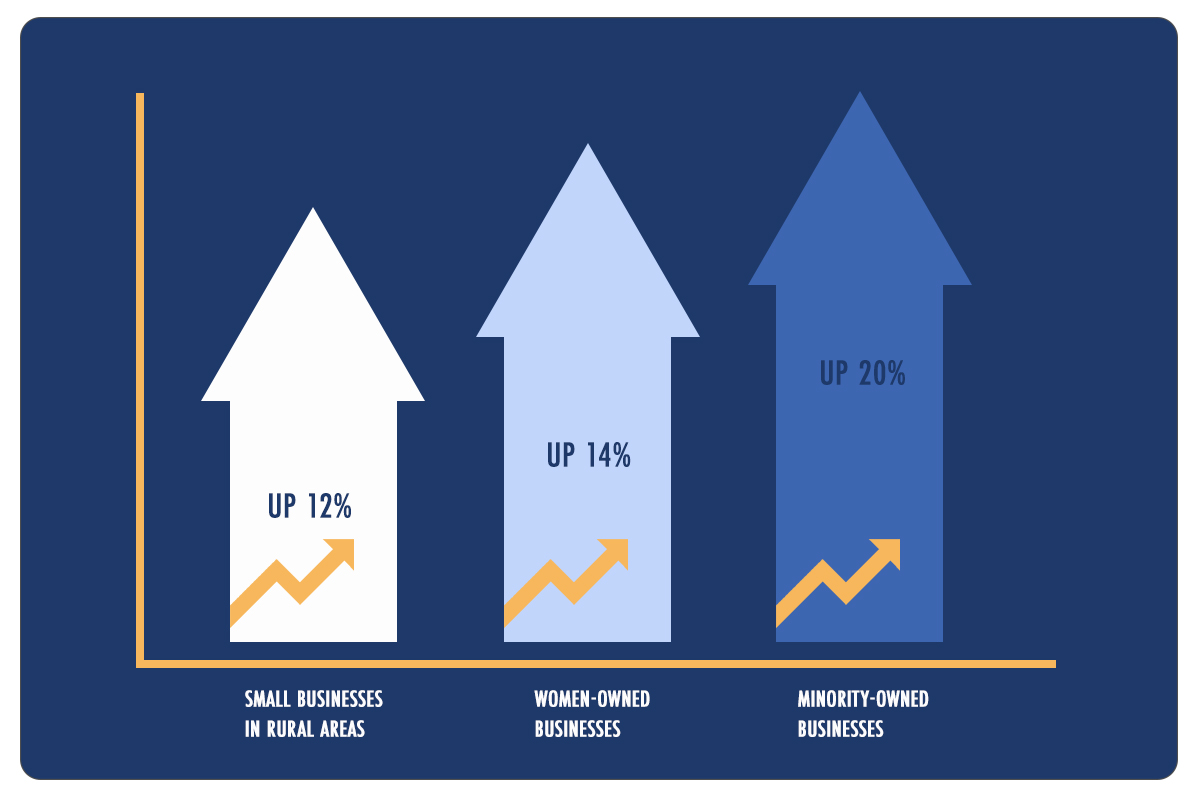 Early Indications show program reforms are working in meaningful ways. According to the SBA Data Fact Sheet, as a March 7, a comparision of the daily average rate of loans made during the exclusivity period and daily averare rate ten days before that period show increase in loans to small businesses in rural areas, women-owned businesses and minority-owned businesses.
Word of mouth networking within some these underserved communities has helped the Bank expand its reach into some of the communities most in need. Approval volumes remain strong and Sterling State Bank is asking for help spreading the word to small business owners who have yet to apply for the Program.
"If you were not eligible in the initial round of PPP, please check back in with us," said Sterling State Bank's Lakeville, MN branch manager Paul Rime. "Approvals have ramped back up thanks to some of the changes in the second round of PPP funding. Just this past week we have approved 100 new loan application, and a total of 173 second round PPP loans approved in the last three weeks." Paul has been working with PPP customers since the beginning of the program.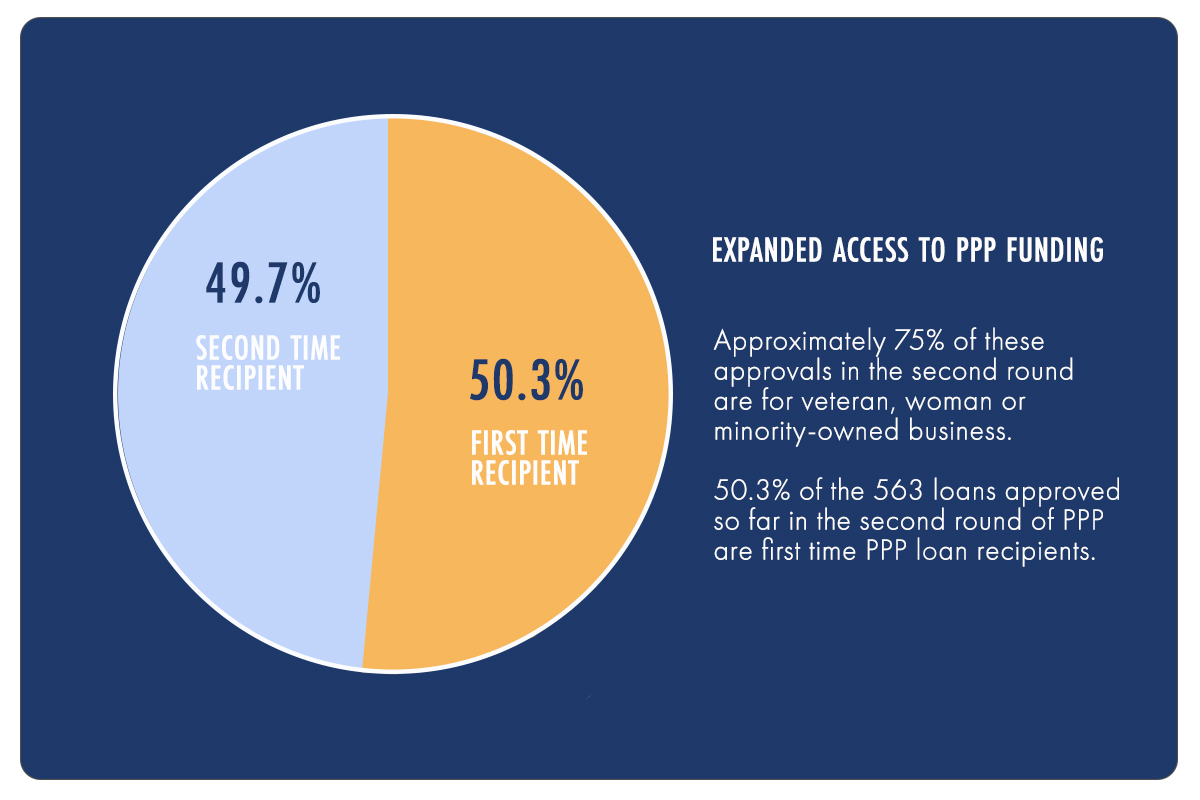 "I can definitely say that some of the SBA changes have been hugely beneficial, particularly to sole proprietors and self-employed borrowers," said Paul. "In total 211 (43%) of the 486 loans approved so far in the second round of PPP are first time PPP loan recipients. Many of these recipients were ineligible for first round funding. It feels good to be able to help small and disadvantaged business owners in Minnesota get the same access to PPP that larger businesses enjoyed in the first round."
View all posts