Contactless Debit Cards - How they work and why they're great | Sterling State Bank
10/10/2021
The Rise of Contactless Payment
The coronavirus has changed a lot about the way we do things. The way we shop, the way we eat out, the way we send our kids to school. It's also changed the way we pay for things.
Prior to Covid, the world was already transitioning to contactless payments. Whether it be Apple Pay, Venmo or contactless cards, the days of inserting your debit or credit card , or handling cash were numbered. Covid-19 has sped up this transition faster than we could imagine. As people were looking for less contact and safer methods, contactless payment usage jumped 30% just last year according to The Fintech Times.
In fact, according to fool.com, 82% of users believe it is a cleaner way to pay and 69% find it more convenient than handling cash.
Contactless debit cards include the latest chip technology. Every chip transaction and every contactless transaction include a unique code, helping to protect against fraud, making every transaction a secure transaction. With a regular debit or credit card, you either swipe or insert your card and follow the prompts on the payment terminal. The contactless card allows you to just tap and go, with no touching and no signing.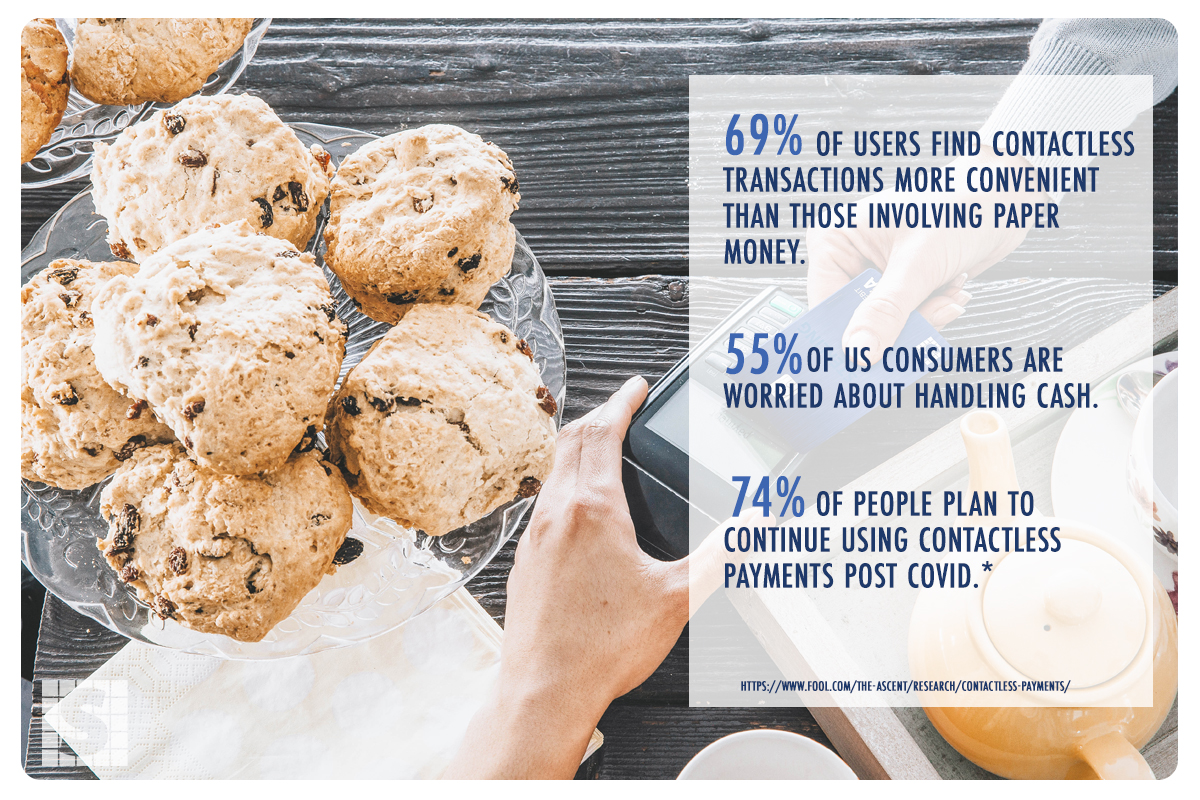 Why use contactless payment?
It's cleaner and safer. While Covid-19 and the delta variant are still making their way through communities, cleanliness and safety continue to be a focus for many Americans. 55% of Americans are worried about handling cash and because contactless doesn't require consumers to hand over their money or card, it's viewed as a safer method of payment.1
It's more secure than a traditional card. Each transaction has a unique code brought to you by radio-frequency identification (RFID) technology. This allows the card to communicate with the reader seamlessly and safely.
It's fast and simple. Just tap and go. No waiting for processing or prompts. The tap feature allows to you be in and out in no time.

As consumers make use of touchless payment options with increasing frequency, the value of contactless transactions in the U.S. is expected to increase from $178 billion in 2020 to $1.5 trillion in 2024. This will help drive the tripling of global contactless transaction values, which Juniper Research forecasts will jump from $2 trillion this year to $6 trillion in four years' time.
It will also accelerate the shift to a cashless society, which 57% of consumers told PaymentSource they were more comfortable with after using contactless payment methods during COVID-19.2
How do you get a contactless debit card?
Ready to switch and join millions of people around the world already enjoying the perks of contactless payment? Contact your banker today to get a new card issued, sign up for a new Sterling State Bank checking account or contact us here.
2 https://www.fool.com/the-ascent/research/contactless-payments/
View all posts